a blog about Baltimore cemeteries and the people who are buried in them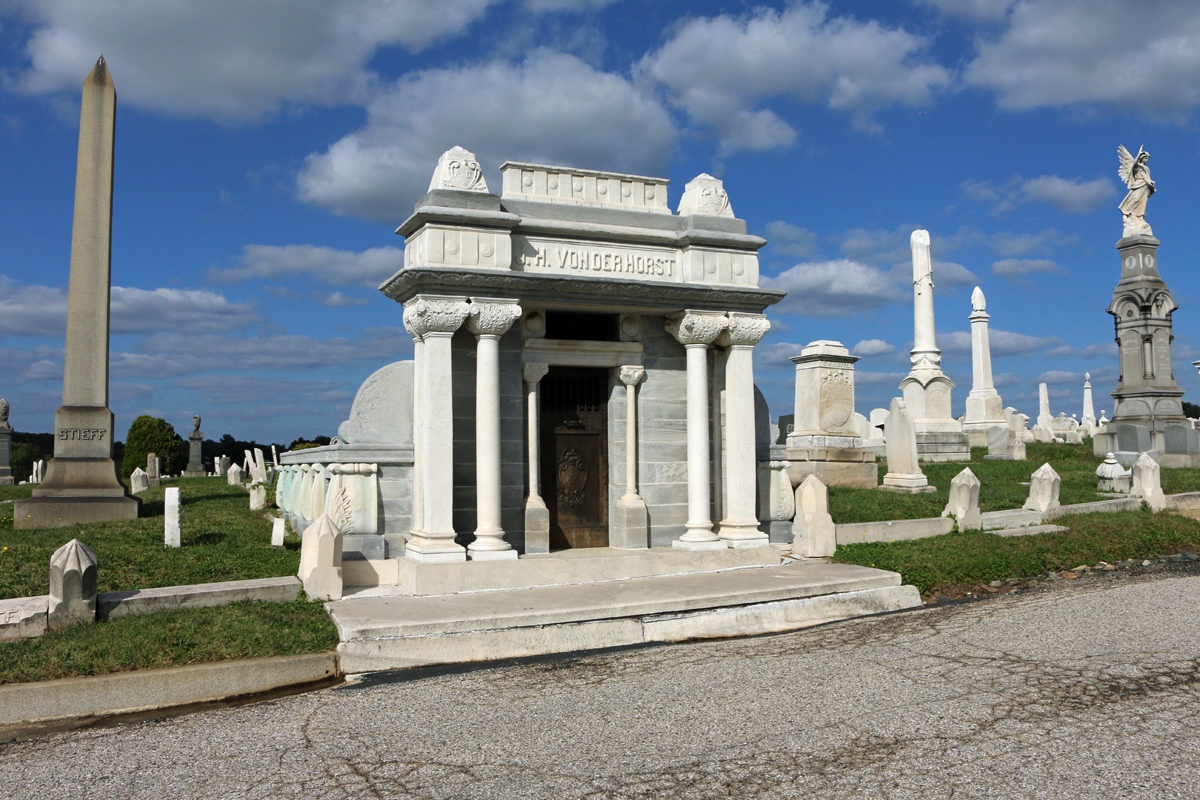 Cemeteries remind us of our mortality. Yet, visiting them and imagining the lives of people from our past is sometimes irresistible.
Pictured: J.H.Vonderhorst founded the Eagle Brewery, located on Belair Avenue near the 900 block of Gay Street. The family plot is at Baltimore Cemetery.
Dying to Tell Their Stories explores the lives of people who are buried in Baltimore's historic cemeteries. Some are famous and deserve to be. Others have lived extraordinary and interesting lives, but have been forgotten. Every one, in his or her own way, has helped this city become what it is today.
Cemeteries can seem like an odd tourist destination, but staff at Baltimore's historic cemeteries rarely look surprised when visitors arrive unannounced, searching for the gravestones of Baltimore's forefathers and mothers, heroes, villains, sports figures, entrepreneurs, soldiers and politicians. Most cemetery offices provide maps that show the resting places of their most popular residents.

Baltimore's most exquisite burying grounds include Green Mount, Loudon Park, Woodlawn, New Cathedral, Druid Ridge and Baltimore cemeteries. Smaller and equally intriguing cemeteries are tucked away throughout the city in church yards and neighborhoods.

Why do so many visit grave sites of people who died a long time ago and who are often strangers?

For us, both native Baltimoreans, we are simply curious. Some names etched in gravestones are also seen on Baltimore's street signs and neighborhoods: Preston, Gilmor, Winans. We want to know the connections.
Who are the others? What did they do when they were alive and how did they die? What are their surviving families trying to tell us by leaving behind elaborate memorials with mysterious symbols?
We also love the peace in these places. Step inside a historic cemetery, even those right in the midst of the city and the real world slips away. Wander along a maze of shady paths. Stop to read worn lettering on a gravestone. Enjoy the sunlight that shimmers through gnarled branches of a century-old hardwood trees. Once in a while, you'll stumble upon a surprising city vista.
These stories are sorrowful, moving, poignant, inspiring and surprising. Here are just a few of the favorite people we have come to know:
Bertha (Kline Tarbeau) Schofield was a circus trapeze artist and bareback horse rider for three years until she met silversmith Frank Schofield while performing a vaudeville show the Maryland Theater in Baltimore. They married and she went on to learn the trade of silversmithing and worked alongside her husband until he died in 1947. She kept Schofield Silver profitable until 1965 when she sold the business to Oscar Caplan, who later sold it to the Stieff Company.


L.A. Platt arrived in Baltimore with a successful background in the oyster packing industry. His new factory was located at the site of the current Baltimore Museum of Industry. Mr. Platt is buried in Green Mount Cemetery along with his wife and six children.


Mary Avara was the senior member of the Maryland Board of Censors from 1960 – 198. Each work day, she strode into the office's darkened movie review room, settled in a chair and picked up her knitting. Miss Mary then watched every single new movie that was slated to open in Maryland, whether destined for a neighborhood theater or a seedy peep show. As a governor-appointee, her job was to protect Marylanders from sexually explicit film content. She was opinionated, colorful, controversial, and is buried in New Cathedral Cemetery.
We welcome comments, contributions and suggestions of people to profile: Contact us or visit us on Facebook and Instagram.